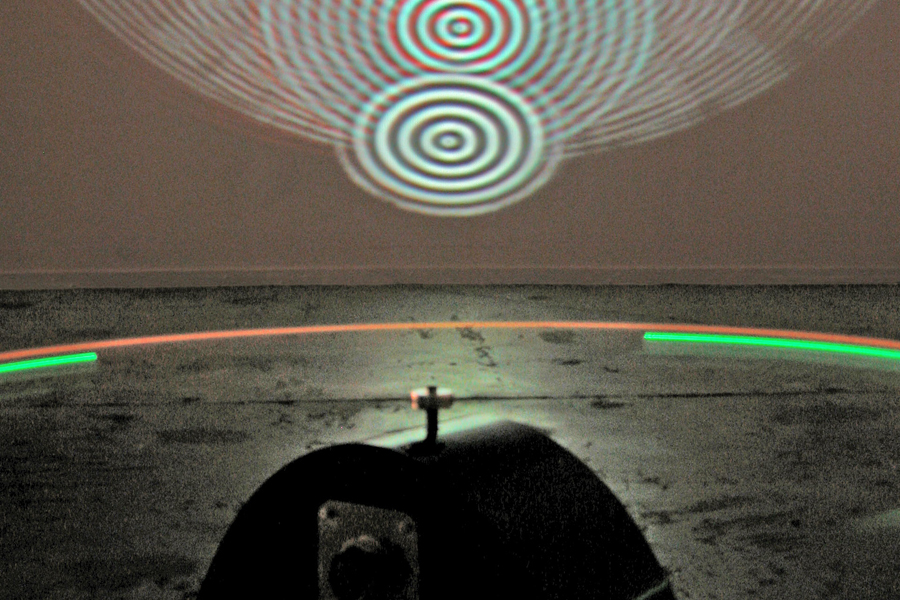 Adam Donovan, Sound Room Modulator, 2004, Installation view
Artspace Visual Arts Centre
March 4 - 27 March 2004
Sound-Room Modulator extends from kinetic and scientific modes of thinking and was produced during a residency at Artspace. Three sound sculptures form a physical background for sound emitted through two beaming devices and a type of Leslie speaker that produces a Doppler effect. As a whole there is a fundamental shift in the audio produced and requires the viewer / listener to think about the dynamics of the sound in terms of its relationship to real sound phenomenon. A moving image on thewall relates to visual similarities of the sound produced by the spinning sculpture on the floor while another projection on the floor moves as you try to touch it. This is not a static environment and requiresthe viewer / listener to play with their position including lying on the floor with their head close to a fast moving object. The audio comes from two places, one, a recording of the artist breathing which has been manipulated over and over again, and physical phenomenon from sound recordings in Sydney.
Donovan's perception of sound is intimately linked to the interaction of sound phenomenon in space.This involves a tuning in of the Phono-Physical. In environs Donovan sees the reflection of sound off objects where sound is dynamically shifting and changing. Sound localisation turns the object into atype of Pseudophone in which the object is the sound. Donovan is also interested in the infinite contentof sound in any given recording highlighted though the breathing sounds.
When motion is combined with localised sounds it adds a rhythm and becomes a cyclic drum. In
relationship to vision this is like a pendulum or watch having a slightly disturbing mesmeric effect and can at times make you feel nauseous. The three sound works that form this "sound-room modulator" aim to shift the acoustic space of the gallery to mimic the acoustic phenomenon recorded in the environment.
Adam Donovan is a Brisbane-based artist working in the area of acoustic, visual art and computer engineering. Donovan began exhibiting in 1996 and was the driving force behind Carbon Based Studios, an artist run space dedicated to experimental installations and art incorporating technology.
Soundcloud Link: